Butterflies, bees, bats, and other organisms distribute pollen or seeds and are known as pollinators. Pollinator plants can be planted in sunny or shaded areas depending on the plant species and should be selected with host (for larva) and nectar (for food) plants in mind. A list of pollinator plots around Springfield includes:
SSI's Climate Restoration Area on Clear Lake Avenue
State fairground Gate 2 on Sangamon and Peoria Roads (raised beds for a year round exhibit)
Downtown Springfield on 5th and 6th, and between 6th and 7th on Adams, 3-5 on Capitol Ave., down Jefferson and 4th street.
At bumpouts downtown (a multiple day planting event!)
The rooftop at Maldaner's Restaurant
Kidzeum
Springfield Art Association
Southwind Park
Enos Parks
Washington Park (3,300 sq. ft. added in 2018)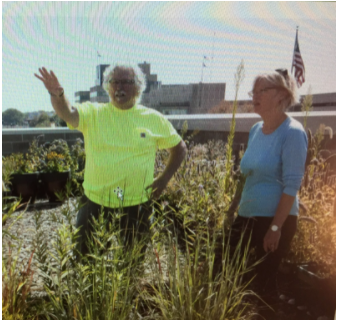 SSI Board Member Higgins and Susan Helm on Maldaner's rooftop.
Susan Helm, master gardener, has been working on native plant pollinator gardening. Susan has been awarded many grants and found numerous willing partners, including Springfield Civic Garden Club, Illinois Native Plant Society, City of Springfield, Toyota/Route 66, Springfield Art Association, Maldaner's Restaurant, and Sustainable Springfield. Specifically, Route 66 was designated as a monarch butterfly flyway as part of the Illinois Monarch Action Plan, which was signed by Illinois Departments of Natural Resources, Department of Transportation, and Department of Agriculture, Environmental Protection Agency in September 2020.
Downtown Springfield has pollinator pocket status and a monarch waystation. In October of 2021, SSI Board member Michael Higgins helped Susan plant some of these pollinator plants in the bump outs all around town. These are parts of the sidewalk that go slightly into the street so you can add green spaces along otherwise boring concrete sidewalks. These concrete areas were prone to trash, cigarette butts, and in the winter, street salt. Most of this has been funded through grants by working more directly through the city, who seem to be satisfied.
Installing a pollinator bed is one thing but maintaining it is key, Susan says. In the fall before planting pollinators, cardboard and mulch are laid down to prepare the area. You can find pollinators at greenhouses. Many pollinator seeds, such as milkweed, require stratification, which you can start as early as December or early January. Place the seeds in a plastic bag in the freezer or crisper part of your fridge for 60-90 days. It is helpful to label everything. You can use plug trays, then transplant them to 4-5 inch pots. Lincoln Memorial Garden and Illinois Native Prairie Society both have their own plant sales. If you have bare ground available you can directly seed it, but it's best to time it with a good rain or snow. At a certain time of year some pollinators don't look so great- so put your focus on three-season blooming plants. Another tip: Don't cut the dead from last year until the end of spring.